Princess Diana's Wedding Dress
I got up at 1am (PDT) to start watching all of the pre-Royal Wedding shows. My eyelids were hard pressed to stay open, but they carried me through until 5am. My mother and I sat together drinking tea, eating scones and laughing very giddy like. I was awake to see the arrival of HRH The Queen, Prince William (now Duke, Earl, and Baron), Prince Henry, The Prince of Wales, The Duchess of Cornwall, Pippa and all the flower girls and boys, as well as... Catherine Middleton's (Now, Duchess, Countess, and Baroness) beautiful arrival.
Bodice & Veil
Now, I know that unwanted comparisons between her and Princess Diana are being made, but it's inevitable. HRH Duchess of Cambridge's wedding dress was much smaller than Princess Diana's was. However, in my opinion, I believe that the Duchess' dress was much more flattering. The folds were complimentary and the bodice was SO pretty. The veil was too short, but still very pretty.
The dress is very reminiscent of the 1950's, which I love. However, I think the dress was just a bit too simple. I know there's some type of designing on the hem all the way around, but because it's white on white...it's not easily seen.The boquet was a huge let down. They were the only flowers in the whole wedding, and they were tiny. It didn't even cover her hand. Princess Diana's was too big, and I think Catherine should have gone for something medium sized. (And with colour!)
Catherine's Wedding Dress
As for the tiara, I would have expected something with a bit more Umph! since she was wearing such a simple dress. However, that was all in The Queen's hands, not Catherine's.
The whole service was gorgeous. I absolutely love Prince Harry and how relaxed he was at the Wedding. I think it helped eased the tension for his brother as well. He's adorable - he just brings a bit of a happy charm to it all.
After the ceremony came the anxiously awaited kiss on the balcony of Buckingham Palace. I remember watching the countdown clock and trying so hard to stay awake for it. When the kiss happened, my mother and I were just a bit disappointed. It was just a peck! Then, they rewarded us with a second one. I don't think that's ever been done before, and they looked extremely happy that they did it.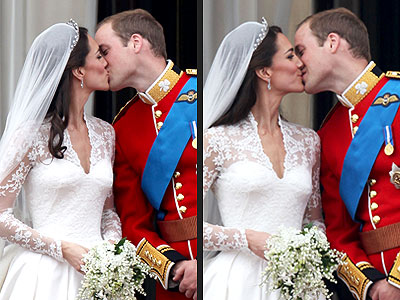 First Kiss Second Kiss
It was a supremely beautiful wedding and I want to have one like it someday! All in all, I was so happy to watch this piece of history, live, while it happened thousands of miles away. You can't deny it; England's got style.